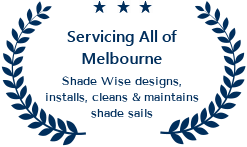 From customising the size, shape, and colour, to creating a completely new type of shade sail design, the team at Shade Wise have been leading innovators for over 30 years. If you need custom shade sails for your home, workplace, or school, then don't hesitate to contact our helpful team. We treat every project as though it were a custom job – tailoring a solution to meet your needs. We have also been responsible for some truly innovative and unusual custom shade sail designs.
Ring Top Custom Made Shade Sails
Developed for a local CFA branch who required custom shade cloth coverings for their water training tanks, our ring top shade sails have since become a popular choice and innovative solution for a range of different projects. With a centre support and a ring that that keeps the shade cloth tension consistent, these unique custom made shade sails are incredibly practical, and also look great.
The ring top sail design is ideal for schools, as the centre pole can lift the sails safely above any play equipment, while the outer poles can be placed at a distance and height that provides the best shade for the chosen area.
Talk to Our Team About Custom Made Shade Sail Options
To find out more, why not contact our team today? Whether you have something in mind, or a unique problem that needs solving, we can find a custom solution. We have created unique "big top" sails for outdoor amphitheatres, and large canopies that can safely span an entire outdoor basketball court. Our team can adjust standard designs such as barrel vault structures or classic sail structures with droppers in order to make them a better fit for your needs. Talk to the Shade Wise team about your options today.