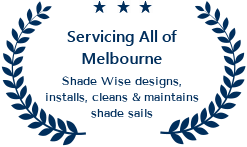 Are you looking for professional shade sail cleaning services in Melbourne? perhaps you had your shade sail installed this time last year and want us to freshen it up? or maybe summer is just around the corner and that dirty sail is the only thing letting down the aesthetics of your garden? whatever your shade sail cleaning requirement may be, we have you covered here at Shade Wise.
We Know Shade Sails
At Shade Wise, we know shade sails. We design them, install them, repair and maintain them, so who better to take care of your shade sail cleaning needs than our experienced professionals? With years of experience in the industry, we have the knowledge and expertise to tackle all sorts of grime or build-up on your shade sails. using our high-quality, environmentally-friendly cleaning products, we have the power to give your shade sails a new lease on life.
Shade Sails For Any Outdoor Area In Melbourne
We can make custom-made shade sails to suit your needs, with a wide range of shapes, sizes, and colours. One of our expert consultants will give you a free consultation, measure and quote on all installations.
Professional And Reliable Shade Sail Cleaning Services
For maintenance, repairs to shade sail cleaning services, our friendly team here at Shade Wise are the professionals you can turn to for all your shade sail upkeep. With over 30 years of experience in the industry, our team has a great track record of providing all our clients both big and small with the cleaning services they require. From residential homes to large city councils, you can trust our team will prioritise the wellbeing and longevity of your shade sails for many years to come.
Let the team here at Shade Wise provide you with a professional shade sail cleaning and maintenance service today! Give us a call now to receive your free quote.