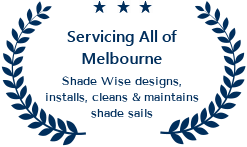 Are you experiencing issues with your shade sail in Melbourne? Perhaps the sail in your garden has fallen out of place and is no longer working as it should, leaving you and your family at risk from the sun's harmful rays? Or maybe the sail in your commercial office space is damaged and must be fixed immediately? Whatever shade sail repairs you need, the reliable team here at Shade Wise has you covered.
Protecting You, Your Family And Your Employees
At Shade Wise, we understand the fickle nature of Melbourne's climate. While we enjoy spending time outdoors and soaking in the sunshine as much as we can, it's also essential that we provide shady spaces to escape hazardous UV rays. If your shade sail has become damaged, has fallen out of place or isn't casting shade where you want it to, get in touch with us today and our expert team can bring it back to its former glory.
Reliable And Punctual Shade Sail Repairs
Our experienced team understands the positive impact shade sails can have in commercial and residential spaces. So, when a shade sail needs to be repaired, we do everything we can to carry out the work as quickly and efficiently as possible. If you require shade sail repair services in Melbourne, call our friendly team and we'll have someone sent out to inspect your sails. Depending on the nature of the problem, we can then carry out on-site or off-site repairs, as well as on-site maintenance services to get your shade sails up and working again in the shortest possible time.
The Trusted Quality Driven Shade Sail Repairs Team
When it comes to shade sail repairs, our friendly and professionally trained team here at Shade Wise are the experts you can trust for all your shade sail issues. From standard maintenance works, malfunctioning systems to ripped or broken sails, we can provide you with a quick and easy cost-effective solution that will get you back undercover in no time. From residential homes to commercial worksites, our team can fix any shade sail no matter its shape or size. Our fantastic track record will give you the reassurance you need in our fully trained and experienced team at Shade Wise.