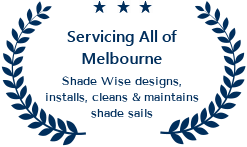 Whatever your industry, the team at Shade Wise can be counted on to provide the perfect industrial shade sail for your needs. With over 30 years of industry experience and all relevant qualifications, we are well equipped to design, manufacture, and install the very best in shade sails for our residential, commercial, and industrial clients.
You can contact us today for a free measure, design consultation, and quote, or view our online gallery to see some of the unique styles and colours that are available. Over the years we have provided shade sails as awnings for factory entrances, and shade sales for outdoor factory break areas. We have designed and constructed cantilevered carport sails for staff parking lots, as well as large car yard shade sails.
Provide Greater Protection with an Industrial Shade Sail
With two in three Australians being diagnosed with skin cancer before the age of 70, providing adequate shade at work is a simple way to improve safety and wellbeing. An industrial shade sail can be used to great effect to protect workers, as well as stock or equipment.
We can work with nurseries, garden centre suppliers, the horticultural, and agricultural industries to provide shade sails that limit harmful UV, while still allowing for adequate airflow and ventilation. Let us know the particular requirements of your business, and we will custom tailor a shade sail solution to suit. We can provide an additional waterproofing PVC coating to our shade sails for better weather protection. Although many of our customers find that simply shading and protecting equipment, structures, or stock from the sun is enough to significantly increase longevity and to reduce the damage associated with exposure to the elements.