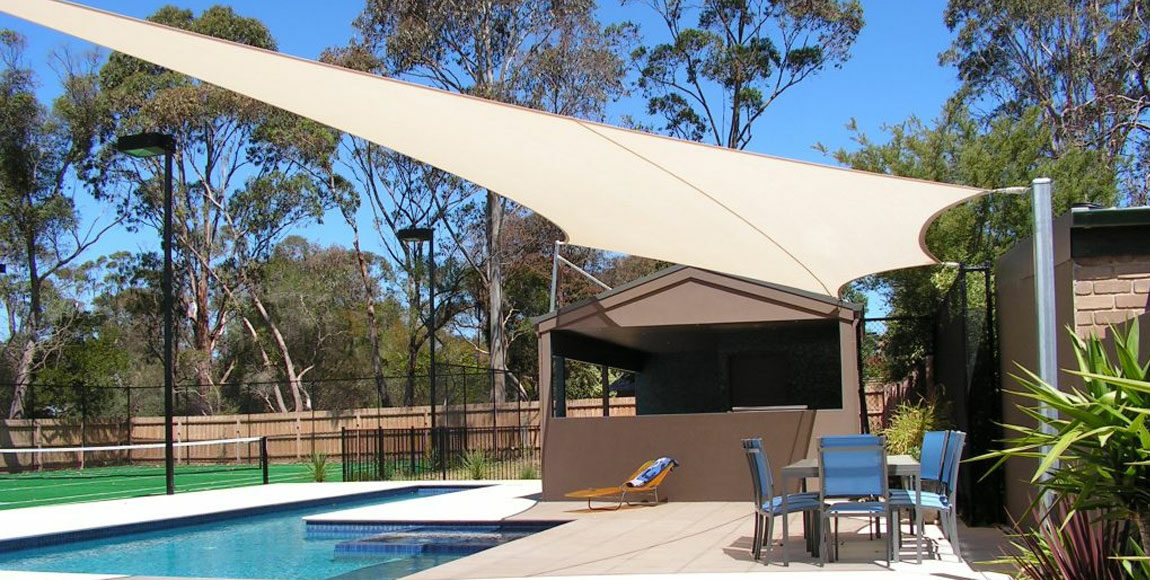 May 19, 2017
Shade sail cleaning & maintenance
Shade sails, like any other outdoor structure, can become dirty over time. Whether it's because of mould, leaves, dirt, insects, or sap, it can shorten the life of your shade sail and detract from its architectural beauty.
It is best to pull your shade sail down and have it cleaned during the winter months, as people tend to use the sails most in summer. Our shade sails come with a 10-year warranty, but the thread may not last that long. We can have your shade sail re-sewn while it is down to be cleaned. The sail can rip beyond repair if the thread degrades to the stage where it unravels or comes apart, so maintenance is important.
It can save you time and money to have your shade sails cleaned and re-sewn at the same time, as cleaning alone can be enough to push deteriorated thread over the edge. This means the sail only needs to be taken down once. Your shade sail should only have to be re-sewn once in its life.
We can evaluate your shade sail to let you know if it needs to be cleaned, re-sewn, or replaced, and how much it will cost. We stock a wide range of stainless steel fittings to replace any that have seized up.
We can either perform the evaluation at your house or you can save money by bringing your shade sail to our factory.
You should be careful to avoid chemicals containing bleach, halogens, or sulphur if you are cleaning your own shade sail. These chemicals can attack the shade sails UV stabilisers and void your warranty. We recommend using a mild detergent and a soft scrubbing brush.
It is important to make sure your shade sail is tight when reinstalled to avoid damage and reduce wind flap.
We have found that shade sails sewn with a heavier thread last longer than those sewn with a lighter thread, so we can re-sew your shade sail with a heavier thread to ensure it lasts as long as possible.
Contact Shadewise for more information about cleaning or re-sewing shade sails in Melbourne.